Everybody Dance Now!
London's Hot Chip and Brooklyn's Gang Gang Dance had a sold out crowd dancing in Prospect Park last night.
Thursday, July 19, 2012 - 12:54 PM
The huge popularity of EDM – electronic dance music - has led to a sea change in concerts lately, as huge crowds gather to watch brand-name DJs like Skrillex, Deadmau5, and Avicii. Nothing wrong with that, but it was great to be reminded last night at Celebrate Brooklyn that there are still bands playing dance music the old-school way: with multiple human beings and instruments being played in real time.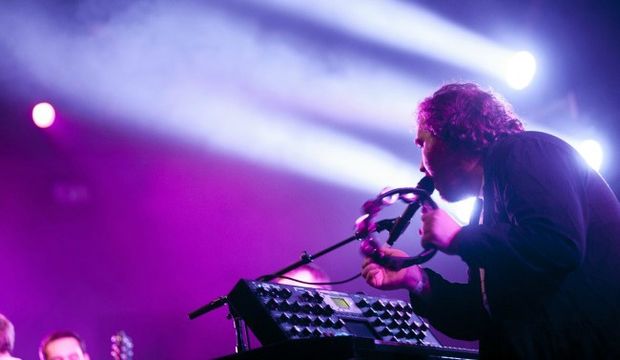 (Ryan Muir for NPR)
Hot Chip were the headliners at the bandshell in Prospect Park, and the focus of NPR Music's live video webcast, which I hosted. But I was also curious to see how openers Gang Gang Dance would present their edgy mix of dance and more experimental electronica. The answer was: convincingly. Gang Gang Dance's set featured keening, alien vocal lines soaring over choppy keyboards, rhythmic samples and glitches, and two live drummer/percussionists. Although their first song had a hint of a Bollywood rhythm, much of their set looked back to an early generation of electronic rockers: Songs were connected by long, flowing musical textures reminiscent of Tangerine Dream, Klaus Schulze, and Vangelis.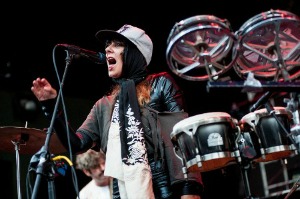 Hot Chip also found ways to transition seamlessly, as they did heading from "One Life Stand" into "Night And Day," which, even divorced from its recent video (which is totally bananas), is still a trippy, catchy piece of dance-pop. The band still does DJ shows, but they haven't given up on music as a performance art: their live show is precise and polished. And again, there were plenty of echoes of earlier musical influences – fans of early Depeche Mode and New Order would have been very happy with the show last night. And fans of Fleetwood Mac who were on the ball might've noticed that band's "Everywhere" used as a kind of transition out of Hot Chip's own "Ready For The Floor," one of a handful of older songs they played. (Most of the rest of the set came from the new album, In Our Heads.)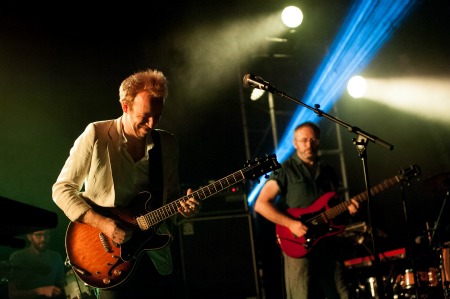 Everything (including our webcast) had been delayed by the storm that brought heavy rain, nickel-sized hailstones, and a dangerously impressive lightning display to the New York area. But Hot Chip made no concessions to the weather or the outdoor venue, accompanying their live music with a full-on, fairly intense light show.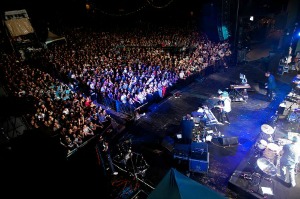 The set was dancey but melodic, from a band that has always known how to have fun. And the sold-out audience (I'll guess 7-8,000) had fun too. A walk around the back of the crowd turned up lots of people dancing their butts off. Also more than a few glowsticks and the smell of weed (though you didn't need to leave the backstage area to experience that). It may not have been a DJ set or a rave, but all the accoutrements of a major dance music event were there. And at the end of the set, Hot Chip invited the audience to join them for an actual DJ set at Santos Party House in lower Manhattan. For anyone with the time and the ability to squeeze in, the fun promised to last a lot longer.
(All photos by Ryan Muir for NPR)